Photo Books
Click on the corners to flip pages.
No flipbook? Update your Flash-Plugin.
NEW! LEGEND MEN - Ron Lloyd, Photobook, 96 pages, full color image-wrap hardcover, 7 x 9.75",
$43.95 + $5.95 s/h = $49.90
Photographer Ron Lloyd has one of the best jobs of this planet without doubt: He's looking for muscular, incredibly good looking hunks and makes them strip off their clothes in front of his camera … all their clothes. With a naughty grin on their face these dream-made-flesh guys present their bodies, which are immaculate from top to bottom. Horny hunks such as Zeb Atlas and Von Legend are popular among gay men worldwide—and in Lloyds third photo book LEGEND MEN they offer us a look that really deserves to be called "legendary".

Place an Order Now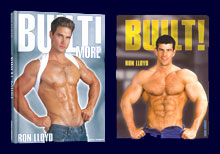 BUILT! & BUILT! MORE Photobooks, 112 pages full color Hardcover, 8.25 x 11.25 US $39.95 plus $5.00 s/h = $44.95
These books are produced for the physique connoisseur. Body Image Productions, one of the leaders in erotic male photography, gives us their best models with massive and well-endowed bodies. Prepare yourself to lust after these perfect men. Lloyds' models have developed a large following and so will these beautifully printed books from world-famous Bruno Gmunder Publishing.

Place an Order Now